Wrestling Team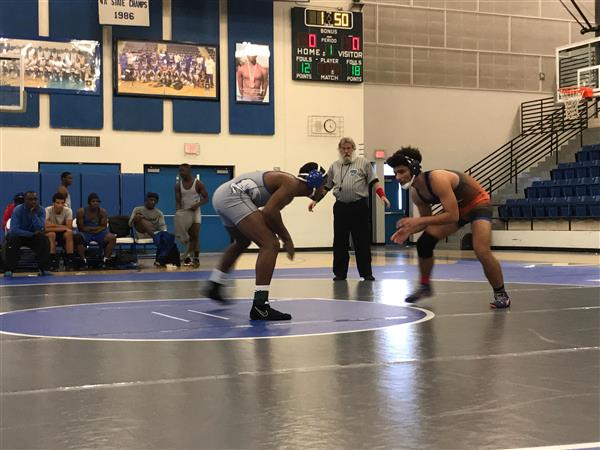 Our school is fortunate enough to participate in the highly physical sport of wrestling. We take great pride in our wrestlers and train them hard to compete against other schools and command respect for their stellar abilities. Here you will find galleries, updates, and various information related to the wrestling team.
Alex is a senior wrestler who competed this season in the 220 lbs weight class. Alex placed 3rd at the BCAA County Wrestling tournament. King would go on to win a district championship this year. For his accomplishments on the mat, Alex King was selected to represent Broward County in the Broward vs. Dade All-Star Wrestling Meet.

This past weekend Kenny Boyd competed in the FHSAA wrestling state tournament. Looking to become Stranahan's first state champion since 1982, Kenny wrestled hard. He had a tough draw in the first round wrestling the #4 ranked kid in the state but a takedown with 6 seconds left in the match secured the win for Kenny. He went on to dominate his next opponent 15-5 to make it to the semi-finals and automatically become a state placer for the 2nd year in a row.
In the semi-finals Kenny wrestled a smart match defeating his opponent 9-5 and becoming Stranahan's first state finalist since 1982. He would go on to fall short of his goal losing in the finals in a hard fought match 10-5. Placing in the top 2 has automatically qualified Kenny for Senior nationals at the conclusion of his senior year where scouts from all over the nation will be there looking for quality wrestlers to add to their college squad. If you see Kenny please let him know how well he did in representing Stranahan High and that we are proud of him as he does not take losing lightly and this is an outstanding achievement.

WRESTLING CHAMP -- KENNY BOYD
This weekend the Stranahan wrestling team competed in the BCAA Broward County Wrestling tournament. Sophomore Kenny Boyd won the championship in the 145 lbs weight class by beating an undefeated senior from Monarch High School. Kenny was also voted by the coaches as the most outstanding wrestler in the middle weights. He is Stranahan's 3rd county champion and only a sophomore. He is also only the 3rd county champion from Stranahan since 1985. Austin Parkes battled not only tough competetion but the flu to place 4th in the 152 lbs weight class. Senior first year wrestler Duvens Joseph placed 7th in the 113 lbs weight class.
http://www.sun-sentinel.com/sports/highschool/broward/fl-wrestling-bcaa-champs-0121-20120120,0,7392525.story
COUNTY PLACERS WRESTLERS